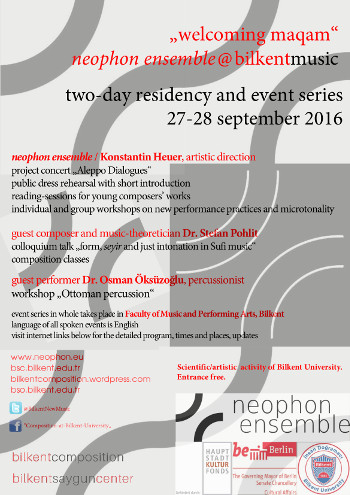 "Welcoming Maqam" and "Aleppo Dialogues" at Bilkent Music

A series of events entitled "Welcoming Maqam", organized by the Bilkent Saygun Center and Bilkent's Department of Composition, with the support of the Berlin Capital Cultural Fund and the Berlin Senate Chancellery Cultural Affairs, took place on from 27-28 September 2016 at the Bilkent University Faculty of Music and Performing Arts. The series, which was open to the public, included seminars, a panel discussion, individual and collective masterclasses, rehearsals, and discussion of works written by Bilkent Composition students along with a final concert rehearsal. It ended with a concert, entitled "Aleppo Dialogues", in the Bilkent Concert Hall given by the young collective neophon ensemble from Germany. At the center of the scientific, artistic, and pedagogical activities was the 'qanun', Turkish 'kanun', an instrument widely used in and around the regions of Turkey. A dialogue between the qanun and international currents of contemporary modern music, including various dimensions of sociocultural and artistic problematics that arise in this interaction, was a theme throughout the events as well as in the final concert.

The first day of the series featured a seminar by Dr. Stefan Pohlit entitled "Form, Seyir, and Pure Intonation in Sufi Music", which elaborated on the background scientific research and the overall conceptual framework of the project, in addition to his composition masterclasses. Afterwards, the same day continued with the masterclass "Usûl and traditional instruments in Turkish Music" by Dr. Osman Öksüzoğlu and Tolga Volkan Kılıç, along with "Performance Practice Issues in Contemporary Music", a panel discussion given by the members of the neophon ensemble. The second day began with a rehearsal of works by Bilkent's own students &ndash Aslıhan Keçebaşoğlu, Emre Eröz, Nadir Kaya, and Arda Yurdusev &ndash by the neophon ensemble, along with composition masterclasses by Dr. Pohlit throughout the day and continusing with the concert dress rehearsal, including facilitatory explanations. The series "Welcoming Maqam" concluded with the final concert "Aleppo Dialogues" for solo qanun and large ensemble, featuring a collection of international composers, namely Julien Jalâl Eddine Weiss, Klaus Lang, Cathrine Lamb, Arash Yazdani, Ezequiel Menalled, Stefan Pohlit and Konstantin Heuer.

Aslıhan Keçebaşoğlu, Yiğit Aydın text

Yunus Thurston English translation

Arda Yurdusev photography

Click here to see the event calendar.